Commercial Overhead Doors
When Your Entrance Matters!
Businesses across the USA have depended on the innovative design and manufacturing experts at ArmRLite for durable, customized commercial overhead doors since 1958. The unique 100% welded construction of our commercial roll up garage doors delivers unmatched strength and durability and allows us to offer the highest degree of commercial garage door customization available. Whether you need a replacement overhead door or are looking for a roll up door for a new building, we can design and fabricate your top-quality, dependable commercial overhead door to match your specifications and give your business unique visual appeal. Because our overhead doors offer unparalleled durability and we can provide parts and replacement panels for any door we've ever manufactured, you'll never have to worry about a broken door causing extended business shutdowns. When you want a gorgeous, durable commercial overhead door for your business that provides you with consistent functionality, depend on ArmRLite, the commercial overhead door manufacturer trusted by business owners nationwide for more than six decades.
All Industries, All Applications
Businesses in every industry select ArmRLite Overhead Doors as their commercial overhead door manufacturer.
Artist Studios
Auto Repair Shops
Car Care Centers
Car Dealerships
Car Washes
Cafes
Casinos
Coffee Shops
Fire Houses
Greenhouses
Hospitals
Loading Docks
Marinas
Museums
Office Buildings
Parking Garages
Restaurants & Bars
Retail Stores
Service Stations
Stadiums & Areas
ArmRLite Customizable Commercial Overhead Doors
We offer an array of style options that we can customize to make your commercial rollup door unique to your business and functional for your needs. We fabricate our doors to fit your new or existing space using steel, aluminum, glass, or wood-clad panels and can incorporate a variety of options, including crank-out awning windows, matching gate and entrance door systems, ADA-compliant pass-through doors, energy-efficient packages, high-velocity wind resistance, individual interior and exterior paint colors, and more.
The ArmRLite Process
ArmRLite's outstanding customer service team will help you create the perfect commercial overhead door for your business!
Expert Advice and Recommendations. When you call ArmRLite, one of our specialists will ask you a few questions to assess your needs, specifications, ideas, and budget. With years of experience, our customer service representatives can discuss door options with you and offer recommendations to help make your vision of a stylish, functional overhead door a reality.
Design Approval. Our designers can use CAD drawings supplied by your architect or create a design for your door by referencing your specifications and pictures of your location. You'll have the opportunity to review the plans and request adjustments before approving the design.
Guaranteed Price. We'll provide you with a guaranteed price quote for your commercial overhead door.
Made In The USA. Our highly experienced, detail-oriented manufacturing team will fabricate your durable, dependable, and aesthetically pleasing overhead door to perfectly fit your commercial space.
Professional Installation. One of our factory trained and licensed professional overhead door installers will install your new overhead commercial door to ensure your proper functionality and the safety of your customers and employees.
Why Businesses
Choose ArmRLite
As a leader among commercial garage door companies, we know your business can depend on having an overhead door that's durable enough to remain functional despite heavy usage and rough handling. What if you could have a garage door of unparalleled strength and durability that is also visually appealing and unique to your business? With decades of experience, ArmRLite has earned a solid reputation among businesses throughout the country for integrating modern, innovative design with precise, top-quality manufacturing to deliver commercial overhead doors of enduring strength, reliability, and aesthetic appeal.
Unmatched Strength & Durability
ArmRLite's strong, durable commercial overhead doors outperform all other garage doors in the industry. Because our doors are uniquely fabricated using 100% welded construction, our door frames endure the harshest use without sagging or loosening as bolted frames do. Our doors also feature 4-sided extrusions that won't crumble like the 3-sided extrusions used by other commercial garage door manufacturers, and we can manufacture doors with wind-load ratings of up to 180 mph. ArmRLite can provide replacement parts for any door we've ever fabricated, making our commercial overhead doors economical to maintain and an investment that will save you money over time. Buy your last door first from ArmRLite!
Branding Your Business
ArmRLite's functional, dependable, and gorgeous overhead garage doors deliver curb appeal and brand recognition to businesses across the country. Allow our innovative overhead door company to help you differentiate your business with a one-of-a-kind, modern rollup door designed and built to your specifications.
Flexible, Customized Designs
You can depend on the creative overhead door designers from ArmRLite to provide you with the highest degree of garage door customization available. Our doors' exclusive welded construction enables us to easily accommodate non-traditional door sizes, including aluminum garage doors up to 30′ 2″ wide. We can retrofit your new overhead door to your existing commercial building or design a door for new business construction. We can even manufacture sloping bottom sections to accommodate uneven floors. From unique exterior and interior paint colors to beautiful glass and finish options, our in-house team of engineers will consult with you to understand your requirements and turn your vision for a unique commercial garage door into reality.
Energy Efficient
ArmRLite's energy-efficient commercial garage door options deliver maximum insulation for every climate. Our energy efficiency packages include fully insulated aluminum frames and panels, glazing up to 1″ thick, and water-sealed doors to prevent leaks.
Industry's Best Warranty
As a family-owned, women-led business, we treat our customers like family. Not only are our customer service and engineering staff readily available by phone or email to provide technical or sales assistance, but we also offer the best warranty in the industry. Our warranties are a testament to the high-quality construction of our customizable commercial garage doors:
20-year welded structural warranty on commercial doors
20-year finish warranty on any installation located over 1 mile from saltwater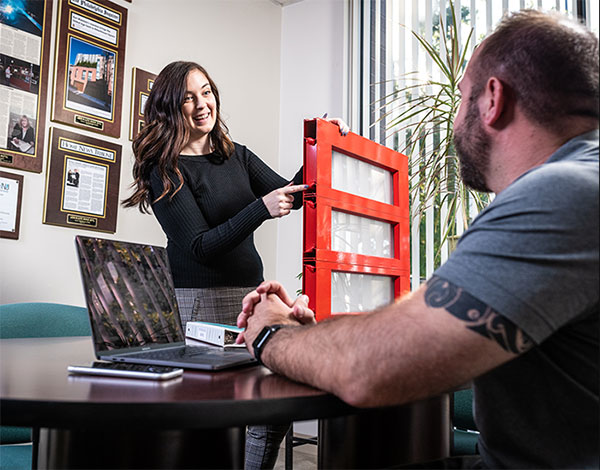 When Your Entrance Matters!
When you choose ArmRLite for your home's or commercial building's entrance solution, you're making a wise investment that will captivate your customers, impress your neighbors, and protect your family and employees.

Questions?
Call 1-800-554-5816 or email ArmRLite today to discuss how we can make your vision of a luxurious, durable garage door a reality!