Innovative, Enduring Commercial and Residential Entrance Solutions
When Your Entrance Matters!
For over six decades, businesses and homeowners have depended on ArmRLite to design, manufacture, and install attractive, durable commercial and residential overhead doors for residential and commercial use. Unlike other overhead door companies, our commercial and residential garage doors feature 100% welded construction, allowing for fully customizable designs and consistently unmatched quality, strength and durability. With more than 60 years of design and manufacturing experience, the experts at ArmRLite can create an elegant, reliable, long-lasting entrance solution for your home or business that enhances its curb appeal, makes a statement, and saves you money over time. Our top-quality rollup garage doors are found across the US and date as far back as 1958, and we quickly provide manufactured replacement parts and door panels on any door we've ever produced. With ArmRLite overhead doors, maintenance is economical for decades to come.
When you choose ArmRLite to create a luxurious entrance solution for your home or commercial building, you're making a smart investment that will captivate your customers, impress your neighbors, and protect your family and employees.
Commercial Overhead

Doors

Since 1958, ArmRLite has been designing, manufacturing, and installing customized, durable commercial overhead doors for restaurants, casinos, car washes, service stations, firehouses, loading docks, stadiums, car dealerships, retail stores, and more. As pioneers and trendsetters in overhead door customization, ArmRLite is the only garage door manufacturer that provides completely welded construction that offers unparalleled strength and durability and allows us the highest possible degree of commercial garage door customization. Our customization options enable us to design and fabricate a top-quality, dependable wood, wood-clad, steel, aluminum, glass garage door to match your specifications, give your business a high level of visual appeal, and help it stand out from the crowd. We can incorporate various features into your commercial rollup garage door to make it both functional for your needs and unique to your business. Options include a variety of finishes; custom sizing, crank-out awning windows; matching systems that include gates or entrance doors; ADA-compliant pass-through doors; unlimited glass options; wind load ratings of up to 180 mph; individual color options for the inner and outer panels; and much more. If you're looking for a beautiful, dependable overhead door for your business that offers you the ultimate level of functionality and durability, rely on ArmRLite, the garage door manufacturer trusted by companies nationwide for over 60 years.
Residential Garage

Doors

Discerning homeowners looking for a modern, attractive garage door have trusted ArmRLite to help them differentiate their homes from their neighbors' for over 60 years. As trendsetters in garage door design and manufacture, we marry luxury and function to create customized residential garage doors that deliver the ultimate beauty, durability, and dependability. From fixed overhead transoms and matching entrance doors to unique glass, finish and color options and energy-efficient insulation packages, we can customize our aluminum, steel, glass, wood-clad, or wood garage doors to your specifications. If you can dream it, our expert designers and fabricators can create it! When you want an exceptionally gorgeous and durable garage door for your home customized to your unique style and perfectly complements your home, the forward-thinking team at ArmRLite has you covered.
Beyond

Doors

In addition to our overhead doors, ArmRLite offers a complementary line of entrance doors and gates to match adjacent sectional door. We also offer customizable COVID-19 solutions. Our safety partitions to help you meet COVID-19 social distancing guidelines in public spaces.
Matching Entrance Doors
ADA Compliant Pass Doors
Matching Gates
Safety Partitions
Awning Windows
Custom Build Requests
Why Businesses and Homeowners Have Chosen

ArmRLite for over 60 years

Your garage door needs to be safe, durable, and functional, but it doesn't have to be an eyesore. With over 60 years of experience, ArmRLite has earned a solid reputation among home and business owners integrating modern, innovative design with precise, top-quality manufacturing.
Unmatched Strength & Durability
ArmRLite's strong, durable commercial and residential overhead doors outperform all other garage doors in the industry. Our unique 100% welded construction enables our door frames to stand up to the harshest use and never sag or loosen like bolted frames. Our doors feature 4-sided extrusions that won't crumble and wind load ratings of up to 180mph for maximum strength and durability. Economical to maintain with replacement parts available for any door we've ever fabricated, our overhead garage doors are an investment that will save you money over time. Buy your last door first from ArmRLite!
Exterior Art for Your Home or Business
When you're looking for a way to add curb appeal to your home or business, start with a functional, dependable, and gorgeous overhead garage door from ArmRLite. Differentiate your house or commercial building with a one-of-a-kind, modern rollup door designed and built to your specifications.
Flexible, Customized Designs
The exclusive welded construction of ArmRLite's overhead doors make it possible for us to provide you with the highest degree of customization available. We can easily accommodate non-traditional door sizes, with the ability to fabricate aluminum garage doors up to 30′ 2″ wide and include sloping bottom sections to accommodate uneven floors. Our in-house team of engineers will consult with you to understand your requirements and turn your vision into a set of CAD drawings that our on-site fabrication team will use to create your customized residential or commercial garage door.
Energy Efficient
ArmRLite offers an exclusive Energy Efficiency Package that delivers maximum insulation for every climate. Our energy-efficient commercial and residential garage door options include fully insulated aluminum frames and panels, glazing up to 1″ thick, and water-sealed doors to prevent leaks.
Industry's Best Warranty
As a family-owned, women-led business, we treat our customers like family. Not only are our customer service and engineering staff readily available by phone or email to provide technical or sales assistance, but we also offer the best warranty in the industry. Our warranties are a testament to the high-quality construction of our customizable garage doors:
Lifetime warranty on residential doors
20-year welded structural warranty on commercial doors
20-year finish warranty on any installation located over 1 mile from saltwater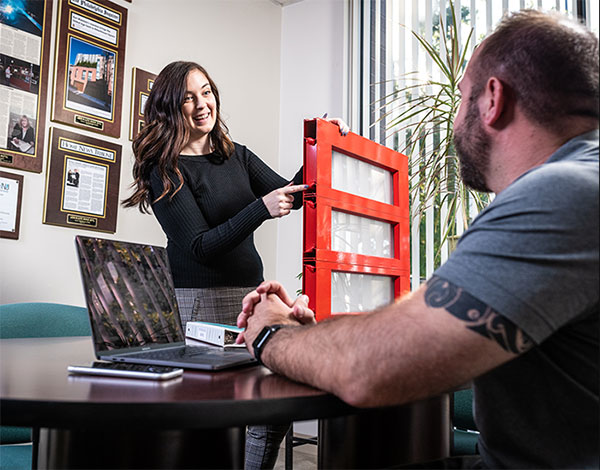 When Your Entrance Matters!
When you choose ArmRLite for your home's or commercial building's entrance solution, you're making a wise investment that will captivate your customers, impress your neighbors, and protect your family and employees.

Questions?
Call 1-800-554-5816 or email ArmRLite today to discuss how we can make your vision of a luxurious, durable garage door a reality!