A History of Strength, Quality, Consistency, and Beauty since 1948
Our Founder
Founder, Jack Dourney, built ArmRLite from the ground up with a focus on quality and ingenuity. He believed then, as we do now, that our customers should always have the option to customize their aluminum and glass garage doors. Jack knew they could not only be high quality, but beautiful as well, adding value and curb appeal to every building they graced. ArmRLite has carefully guarded this reputation through the years and has never compromised or cut corners in our superior fabrication process. We believe in passing true value to our customers with every door that leaves our facility. Our customers know that their ArmRLite welded aluminum and glass garage door will stand the test of time.
Our History
1948
John Jack Dourney Jr. starts his garage door installation business in West Orange, New Jersey after returning from Japan during WWII.
1958
Jack starts ArmRLite Door Manufacturing to supply doors for his garage door installation business.
1959
A lightweight and low maintenance welded aluminum and glass sectional door is designed by Jack. A knights
head is chosen as a logo to symbolize the strength and protection of the door's welded
construction.
1961
Gas station building booms and the demand for ArmRLite doors soars. Manufacturing garage doors becomes
the main focus of ArmRLite with Jack Dourney acting as president.
1963
The company adds the Arm-R-Lon fiberglass sectional door to its product offering.
1966
ArmRLite purchases Hudson Door Mfg., a wood sectional door manufacturing company. Aluminum doors remain
the primary focus of ArmRLite.
1968
The company moves its manufacturing facility to South Plainfield, NJ.
1971
ArmRLite expands its aluminum door product line by offering larger sizes and diversifying applications.
1973
ArmRLite lands the national account for Jiffy Lube. The relationship extends into the 1980s.
1980
ArmRLite enters the residential and commercial steel door market.
1982
The company begins to offer additional painted finishes in addition to standard anodized finish.
1987
Jack's wife, Wilma McGrady Dourney, joins ArmRLite as vice president of sales and marketing
bringing executive experience in the automotive aftermarket industry.
1988
Shannon McGrady, Wilma's daughter, joins the family business as a sales representative.
1991
Jack Dourney retires and Wilma takes the reins as president.
1993
ArmRLite begins to sell aluminum and glass doors for high-end residential use.
1997
Jack Dourney receives a Lifetime Honorary Member award from the International Door Association (IDA).
2003
ArmRLite receives a WBE (Women's Business Enterprise) Certification.
2004
ArmRLite designs an aluminum carriage house door.
2006
The company introduces the Aluminarc, a door with an aluminum top section that conforms for use with
arched headers.
2007
ArmRLite introduces the faux wood finish for all of its aluminum door models.
2013
The company invents an ADA compliant no step over pass door. ArmRLite is the only overhead door
manufacturer in the industry with such an offering.
2013
ArmRLite introduces a crank-out window option on its aluminum and glass models.
Herstory
Women-Led
Currently, ArmRLite is proud to be a family-owned, women-led company. President Shannon McGrady (daughter of co-founder Wilma McGrady-Dourney) runs the business with her deep knowledge of the industry and her pleasant spirit. ArmRLite is a Women's Business Enterprise (WBE) certified garage door manufacturer within the states of New Jersey, New York, Pennsylvania, and North Carolina. Although working with a WBE manufacturer doesn't guarantee a government contract, having the WBE certification can be a benefit for those projects looking to meet their diversity requirement. Although we manufacture garage doors for buildings, they're made with people in mind—people who understand that a superior product is made with experience, integrity, trust—and a strong weld.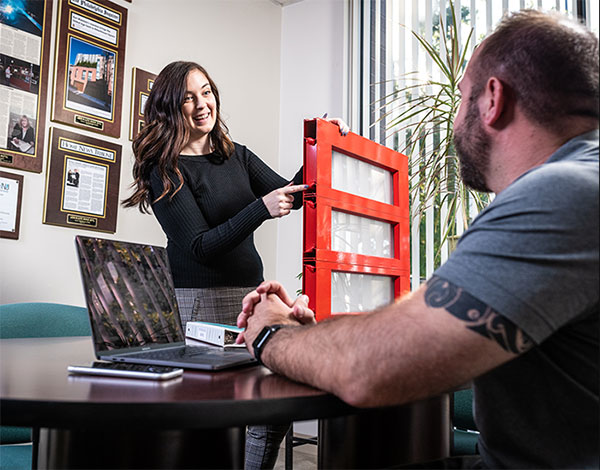 When Your Entrance Matters!
When you choose ArmRLite for your home's or commercial building's entrance solution, you're making a wise investment that will captivate your customers, impress your neighbors, and protect your family and employees.

Questions?
Call 1-800-554-5816 or email ArmRLite today to discuss how we can make your vision of a luxurious, durable garage door a reality!