ArmRLite Testimonials & Reviews
Architects, homeowners, and installers who have experienced the unmatched quality of ArmRLite products and services consistently recognize ArmRLite as the best designer, manufacturer and installer of commercial and residential overhead doors. At ArmRLite, we take pride in being a top-rated luxury door manufacturer and have earned a solid reputation for creating innovative entrance solutions that help home and business owners captivate customers, impress neighbors, and protect their families and employees.
For over six decades, ArmRLite has been trusted by discerning home and business owners to create for them modern glass and aluminum commercial overhead doors and residential garage doors. Our top-rated customized garage doors routinely earn us 5-star reviews and word-of-mouth referrals. We're known for creating the best elegant, durable entrance solutions that enhance curb appeal, make a statement, and save home and business owners money over time. Read a sampling of the reviews we've received from people who have made a smart investment in ArmRLite overhead doors.
5-Star Reviews
Reviews and testimonials from architects, homeowners, and installers who have experienced the unmatched quality of ArmRLite products and services.
Having been in this profession for so many years, it's always a pleasure to know which manufacturers can meet challenges and…explore new methods and materials to make something unique.
~ Marvin L. Taff, F.A.I.A Architect

ArmRLite is the strongest door available and of unequaled design…I have personally installed many of the ArmRLite doors at Sunoco locations which are 17 years old and giving outstanding service.
~ Gary L. Miller, L.A. Pafel, Inc

All the sections and hardware were installed with ease. We did not have to make any modifications and/or adjustments on any of the doors.
~ Stuart A. Coleman, Crews Door Company Inc

…I am glad to have a manufacturer that still believes that "Product Quality" is still what counts in this business.
~ Robert Marsh, Advanced Door Sales NJ

…ARM-R-LITE is the only aluminum sectional door we recommend and sell to service stations, general auto repair facilities, auto-dealers, and anyone requiring custom aluminum sectional doors…While servicing the many brands of aluminum doors found at these facilities, it becomes evident which brand holds up in this environment and which one do not…ARM-R-LITE aluminum sectional doors far superior to other brands.
~ Gary L. Miller, MTD Services, Inc.

Everything from timely manufacturing and delivery times, to the general quality of the products, to their custom design capabilities makes ArmRLite an easy choice for our custom door products time and time again.
~ Wally Voegel, Twin Forks Overhead Door

As a dealer, with many choices of overhead door manufacturers, we can state that ArmRLite has their act together and will get the job done right.
~ Ray Maggione, Tierney & Courtney Overhead Door Sales Co., Inc.

ArmRLite has supplied Jersey Overhead Doors with a wide variety of aluminum and glass doors for the last twenty-two years. They have been able to custom design doors in a multitude of colors and have a twenty-year welded frame warranty.
~ Robert Geyer, Jersey Overhead Doors

…we found their product to be great and durable especially the TITAN model…
~ Vijay, Atlantic Steel Rolling Door

The quality of their products are superior to other manufacturers. The doors have "old school" value in the sense of strength and durability.
~ Gary Valot, All Seasons Doors & More, Inc

My experience has confirmed that there is one door which continually out-performs all others. The ARM-R-LITE "Electra" and "Titan" Models are superior… I have serviced ARM-R-LITE doors that I installed twenty years ago that are structurally as sound as the day I installed them.
~ Gary L. Miller, MTD Services, Inc

…I want you to know that in my 40+ years in the Construction Industry I've had the privilege of working with the some of the very best people at a national level (mostly all men). As a former Sales Representative with Firestone Building Products and CentiMark Corp., both at the national level, I would rate ArmRLite's overall Quality of Service, as the very best (mostly all women). It's been an interesting business experience; impressive, and exceptionally well done from beginning to end. It's just an observation and my humble opinion; but, I know one for sure: it's something you can all be proud of (emphasis added).
~ Ron Swanson, Alliance Door & Hardward, Inc.

We prefer to use ArmRLite aluminum doors on all of our projects because of their inherent durability and structural integrity that is afforded due (to) their complete heli-arc welded construction.
~ Robert Marsh, Advanced Door NJ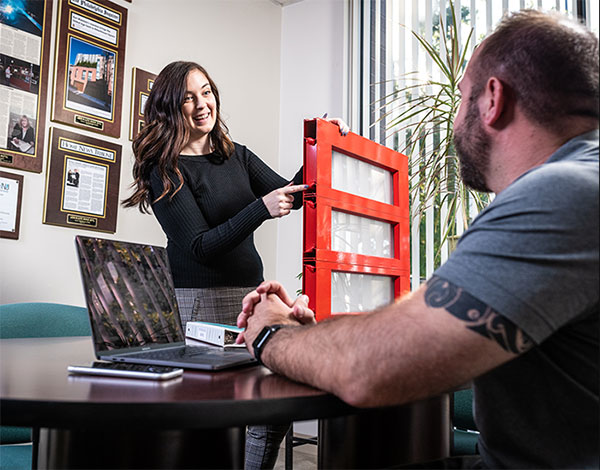 When Your Entrance Matters!
When you choose ArmRLite for your home's or commercial building's entrance solution, you're making a wise investment that will captivate your customers, impress your neighbors, and protect your family and employees.

Questions?
Call 1-800-554-5816 or email ArmRLite today to discuss how we can make your vision of a luxurious, durable garage door a reality!