Residential Glass Garage Doors
When Your Entrance Matters!
For more than six decades, home and business owners throughout the USA have depended on the innovative design and manufacturing experts at ArmRLite for customized, durable glass garage doors. Our commercial glass overhead doors and residential glass garage doors feature unique 100% welded construction to offer you the highest degree of garage door customization available. Whether you need a replacement rollup door or an overhead door for a new home or commercial building, ArmLite can design and manufacture a top-quality glass garage door to meet your specifications and provide your home or business with exceptional visual appeal. With ArmRLite, you'll never need to be concerned about a broken garage door glass panel or worn-out parts making your garage inaccessible or causing extended business shutdowns. Our overhead doors offer unparalleled durability, and we can provide replacement panels and parts for every glass garage door we've ever manufactured. If you're looking for a beautiful, durable glass rollup door for your residential or commercial building that provides you with consistent functionality, turn to ArmRLite, the glass garage door manufacturer trusted by building owners nationwide since 1958.
The Overhead Glass Garage Door Manufacturer Homeowners Trust
The History of the Glass Garage Door
Aluminum and glass garage doors took the overhead door industry by storm starting in the late 1950's. The new aluminum and glass garage doors were lighter, stronger, and more visually appealing than what had been on the market in the past. The first applications to embrace the new trend were service and gas station chains. At the forefront of the surge was Jack Dourney Jr., the founder of a thriving garage door manufacturing company that would pioneer the use of his exclusive welded aluminum and glass garage doors on some of the most iconic applications such as Shell, Gulf, Texaco, and Jiffy Lube service stations.
ArmRLite Becomes the Industry's Leading Residential Glass Door Manufacturer
Jack named his company ArmRLite; a strong name for a durable product. Jack's aluminum and glass garage doors were like no other on the market. By using an exclusive heli-arc welded construction method, Jack provided his customers with the strongest, most durable American-made aluminum and glass garage doors in the industry. Jack understood the need for quality products and designed his doors with four factors in mind: Appearance, Strength, Durability, and Ease of Operation.
Featured Glass Garage Doors for Homes
Modern Glass Garage Doors
Aluminum and glass garage doors by ArmRLite have a natural beauty that blends in flawlessly with the design of modern homes. Available in near-limitless finish options like faux wood, powder coat, anodize, and custom Kynar® architectural coatings, ArmRLite aluminum and glass garage doors tear down the barriers to modern design regarding garage doors.
Durable Garage Doors
Durability and strength are essential to what makes ArmRLite different. Aluminum has a low modulus of elasticity, giving it the ability to resist impact without permanently deforming. Aluminum is also naturally resistant to corrosion, offering owners a lifetime installation with little or no maintenance. The durability and strength of an ArmRLite aluminum and glass garage door come from our construction material and our superior construction method. No other garage door manufacturer in the United States offers their customers a welded frame aluminum and glass garage door.
High-quality Glass and Aluminum Garage Doors
Thru-bolted doors or doors held together with bolts or screws are cheaper and easier to make for competing manufacturers. These manufacturers trade quality and strength for the ability to mass-produce or, in other words, quantity over quality. Aluminum and glass doors that are not welded are subject to sagging or separating over time as the bolts and screws loosen. Jack believed his customers deserved better from ArmRLite and chose to weld the tubular extrusions of his doors together permanently. Jack's exclusive welded method resulted in a door that never sagged or separated and would last for decades longer than competing models.
To accomplish ease of operation, Jack chose to use aluminum for his garage doors. ArmRLite aluminum and glass doors are 30-60 percent lighter in weight than comparative wood or steel doors. The lighter construction material contributes immeasurably to a smoother, more effortless door operation and reduced maintenance.
Enduring Glass Garage Doors Have Endured
More than a half-century after our first welded aluminum and glass garage door left our plant, ArmRLite still holds true to Jack's promise to his customers. Our exclusively welded aluminum and glass doors are the first choice for leading architectural and design firms and the best that money can buy. From restaurants to service stations, museums to homes, ArmRLite continues to be the industry's leader in high-quality welded aluminum and glass garage doors.
ArmRLite Customizable Residential Glass Overhead Doors
With an array of customizable style options, we can create for you a one-of-a-kind commercial or residential glass garage door that's functional for your needs. We'll fabricate your overhead glass garage door to fit your new or existing space and can incorporate a variety of options, including crank-out awning windows, matching gate and entrance door systems, ADA-compliant pass-through doors, energy-efficient packages, high-velocity wind resistance, individual interior and exterior paint colors, and more.
The ArmRLite Process
ArmRLite's outstanding customer service team is eager to help you create the perfect glass garage door for your home!
Expert Advice and Recommendations. When you call ArmRLite, one of our specialists will ask you a few questions to assess your needs, specifications, ideas, and budget. With years of experience, our customer service representatives can discuss glass garage door options with you and offer recommendations to help make your vision of a functional, modern garage door a reality.
Design Approval. Our designers can either create a design for your glass roll up garage door by referencing your specifications or photos of your house or use CAD drawings supplied by your architect. Before approving our design, you'll have the opportunity to review the plans and request adjustments.
Customized Fit. Our highly experienced, detail-oriented manufacturing team will fabricate your home's durable, dependable, and aesthetically pleasing glass garage door to perfectly fit your building.
Made In The USA. Our highly experienced, detail-oriented manufacturing team will fabricate your durable, dependable, and aesthetically pleasing garage door to perfectly fit your house's garage.
Guaranteed Price. We'll provide you with a guaranteed price quote for your garage door.
Professional Installation. One of our licensed professional contractors installs your new modern, luxurious garage door in your house to ensure your proper functionality and the safety of your family.
Why Homeowners
Choose ArmRLite
At ArmRLite, we recognize how important it is for your glass overhead door to be durable enough to maintain its functionality despite heavy usage and rough handling. You need your glass garage door to be of unparalleled strength and durability, but at the same time, you want it to be visually appealing and unique to your home or business. ArmRLite has earned its reputation throughout the country as a leader among residential and commercial glass garage door manufacturers by integrating modern, innovative design with precise, top-quality manufacturing to produce overhead sectional doors of enduring strength, reliability, and aesthetic appeal.
Unmatched Strength & Durability
ArmRLite's durable and robust residential and commercial overhead doors are uniquely fabricated using 100% welded construction, making them capable of enduring the harshest use without loosening or sagging as bolted frames do. Our doors also feature 4-sided extrusions that won't crumble like the 3-sided extrusions used by other residential and commercial garage door manufacturers, and we can manufacture doors with wind-load ratings of up to 180 mph. Not only do our garage doors outperform all others in the industry, but we also can provide replacement parts for any door we've ever fabricated, making our commercial overhead doors economical to maintain and an investment that will save you money over time. Buy your last door first from ArmRLite!
Flexible, Customized Designs
Turn to the creative overhead door designers from ArmRLite for the highest degree of glass garage door customization available. Our exclusive welded construction of our commercial and residential garage doors enables us to easily accommodate non-traditional door sizes, including aluminum garage doors up to 30′ 2″ wide. We can retrofit your new overhead door to your existing home or commercial building or design a door for new construction. We even manufacture sloping bottom sections to accommodate uneven floors. Our in-house team of engineers will consult with you to understand your requirements and turn your vision for a unique commercial garage door into reality by incorporating unique exterior and interior paint colors and beautiful glass and finish options.
Energy Efficient
ArmRLite's energy-efficient commercial garage door options deliver maximum insulation for every climate. Our energy efficiency packages include fully insulated glass panels and aluminum garage door frames, glazing up to 1″ thick, and water-sealed doors to prevent leaks.
Industry's Best Warranty
Our family-owned, women-led business treats each of our customers like family. Not only are our customer service and engineering staff readily available by phone or email to provide technical or sales assistance, but we also offer the best warranty in the industry. Our warranties are a testament to the high-quality construction of our customizable commercial garage doors:
20-year welded structural warranty on glass garage doors
20-year finish warranty on any installation located over 1 mile from saltwater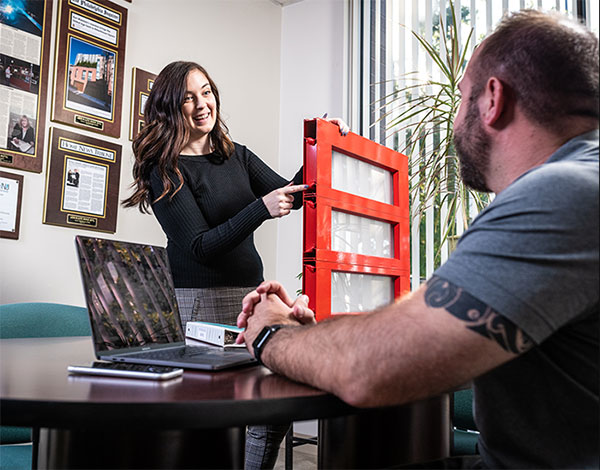 When Your Entrance Matters!
When you choose ArmRLite for your home's or commercial building's entrance solution, you're making a wise investment that will captivate your customers, impress your neighbors, and protect your family and employees.

Questions?
Call 1-800-554-5816 or email ArmRLite today to discuss how we can make your vision of a luxurious, durable garage door a reality!